Doors open at 11:30am ~ Meal begins at 12:00noon
Pay It Forward Cafe is an outreach of Community Ambassadors, in partnership with Ridgewood United Methodist Church, formed to meet the physical and emotional needs of families, individuals, and children who are facing challenging times. We partner with local businesses and organizations in order to provide a healthy meal every 2nd Saturday of the month at 12:00 PM. In addition to providing a meal, we also provide family-fun activities for the children, as well as education and resources to all adults that attend. Pay It Forward Cafe is for families and individuals in the Parma and surrounding communities who may need a nutritious meal or just an opportunity to connect and build relationship with others in the community. Our goal is not merely to feed those that come, but also to enrich their lives.
Pay It Forward Cafe is OPEN TO ALL and there is NO COST to attending.
How You Can Help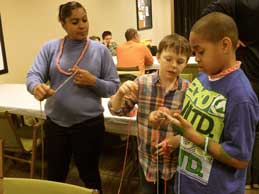 Pay it Forward Cafe exists as a result of generous donations of food, money, time, and talent from all over the Parma area community. Local businesses noted in our Community Sponsors section, as well as many of our area churches, have collaborated and provided valuable resources to help support this outreach. Without this support, Pay it Forward Cafe simply would not be possible. If you would like to volunteer your time, talent, or resources, please contact us. To donate supplies, please check out the Super Six items that we always need.  If you would like to make a financial donation, you may do so online, safely and securely, via our Contribute page.